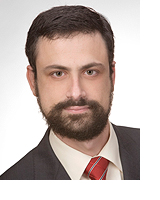 Jared Beck
Harvard Law School, J.D. with honors (2004)
Harvard University, M.A. (2001)
Harvard College, B.A. summa cum laude, Phi Beta Kappa (1999)
Jared Beck is co-managing partner of Beck & Lee. He represents both plaintiffs and defendants in litigation across Florida and the United States, including complex commercial, real estate and personal injury lawsuits, and consumer class actions and mass actions. Beck was one of the pioneering lawyers devoted to representing investors affected by the 2007-08 downturns in the Florida and U.S. economies, encompassing issues arising under investment transactions as well as condominium and other real estate purchase agreements.
Beck is an honors graduate of Harvard Law School, where he was an editor of the Harvard Law Review, and a Phi Beta Kappa and summa cum laude graduate of Harvard College.
He is widely sought by media outlets as a commentator on legal issues and has appeared in many publications including The Wall Street Journal, The New York Times, The Times (London), Bloomberg, MSN Money, Chicago Tribune, Miami Herald, and South Florida Sun-Sentinel.
Before founding Beck & Lee, Beck practiced at Quinn Emanuel Urquhart Oliver & Hedges, LLP — one of the top litigation firms in Los Angeles — where he represented clients including Cadbury Schweppes PLC, General Motors, Snapple Beverage Corp., Waste Management Inc., Blockbuster Inc., and the owner of a Major League Baseball franchise. He was a member of a Quinn Emanuel trial team that won a $128 million federal jury verdict in a patent dispute in the telecommunications industry in 2005.
Later, Beck practiced at the Miami office of Morgan Lewis & Bockius, an international law firm, where he litigated on behalf of large corporations and financial institutions in federal and state court.
Beck is a member of the Florida and California Bars.

Email: jared@beckandlee.com
Phone: (305) 234-2060
Contact